Forged alloy monoblock wheels.
Price with pick up by hand. VAT included.
The indicated price is valid up to 11J rims.
Wheels with width from 11.5 "to 13" have a surcharge of € 60 including VAT per wheel.
Wheels with width from 13.5 "to 14" have a surcharge of € 150 including VAT per wheel.
Significant channel changes lead to changes due to transport costs.
Home delivery excluded (€ 65), possible discounts with collection / assembly on site.
CONTACT US FOR ADVICE AND QUOTE FOR YOUR CAR!
Tel/Whatsapp: 3319622326
Bor-Chuann is an established company in the field of forged wheels and coilovers, based in Taiwan.
The wheels are made by forging T6061 aluminum, for maximum strength and lightness.
The price is extremely aggressive for this type of product, positioning itself halfway between a quality cast rim and a forged one of the best known brands.
You can choose from dozens of different designs. The designs can only be consulted on the official website by clicking here.
These are fully customizable rims in width, ET and PCD to perfectly fit the car.
PLEASE NOTE: the shape of the spokes changes according to the width and the ET, from a flatter rim to a concave one.
On some model custom spoke shape is available with same width and ET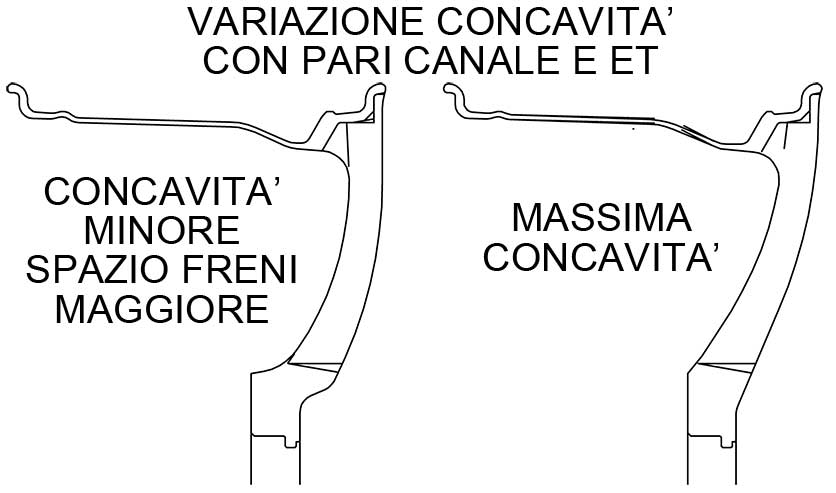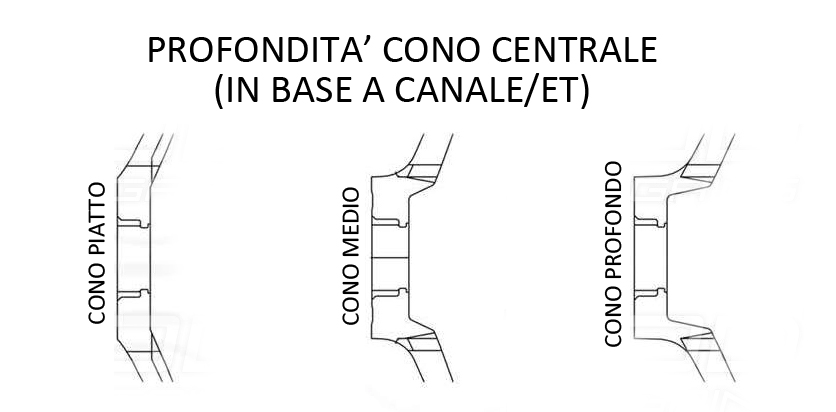 Available finishes (NB the Brushed colors allow a glimpse of the mechanical machining on the rim made by the CNC):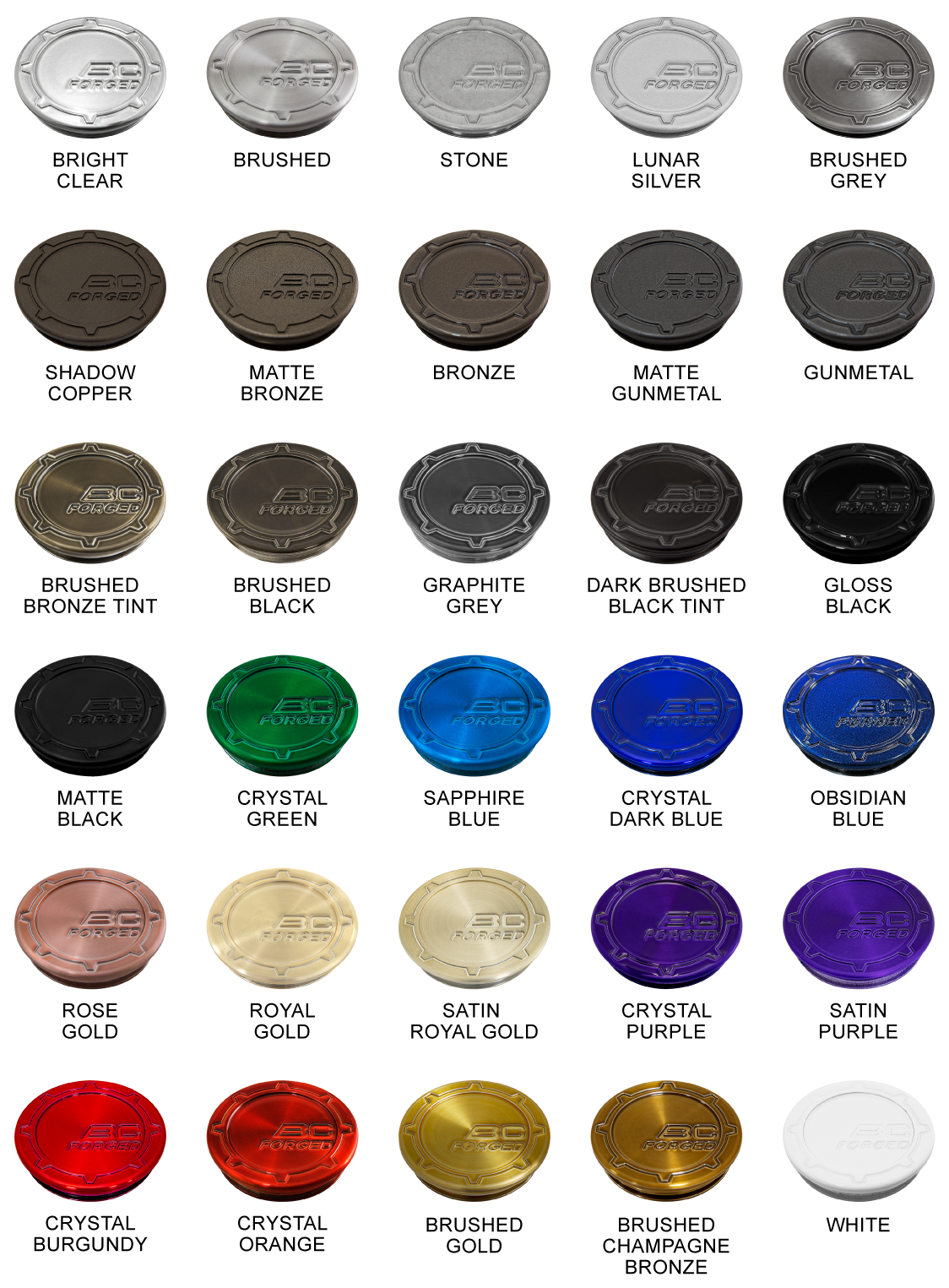 It is possible to have the diamond cut finish with a surcharge of € 100 including VAT per wheel: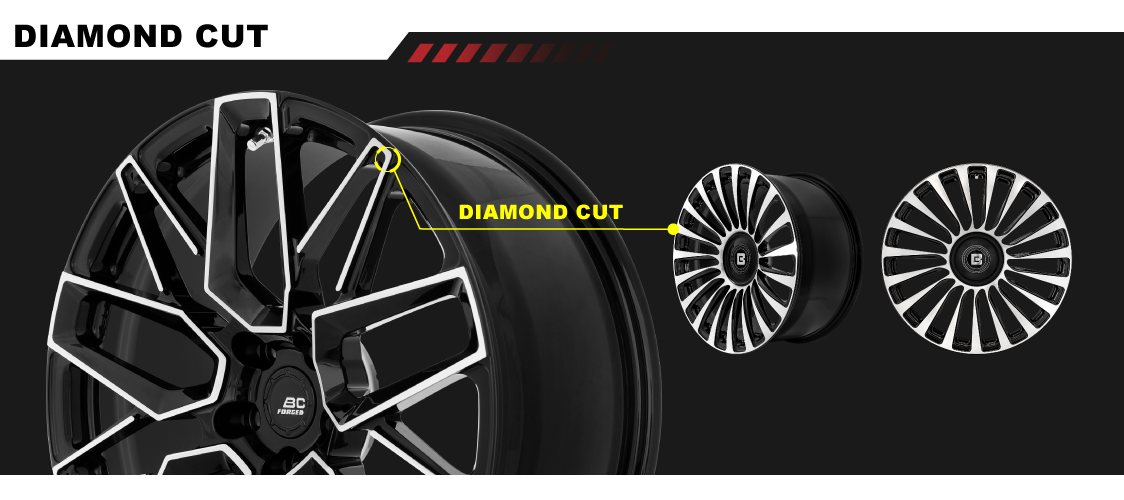 The hubcaps are made of aluminum and are anchored to the wheel with a double o-ring making it impossible to lose them even with very heavy use.
The centercaps are also customizable: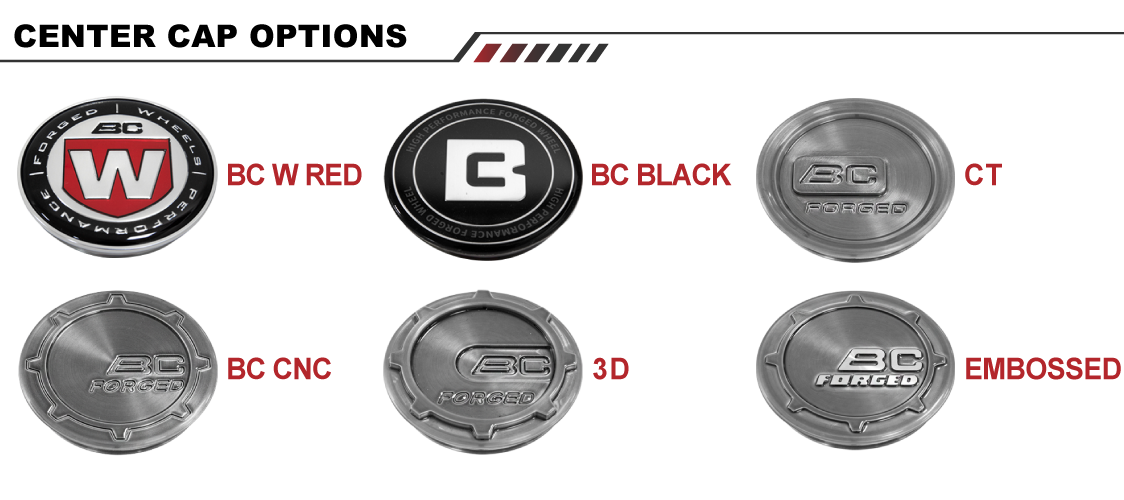 For the CX models it is possible to have the centercap that also covers the bolts. Price of 60 € including VAT for each centercap: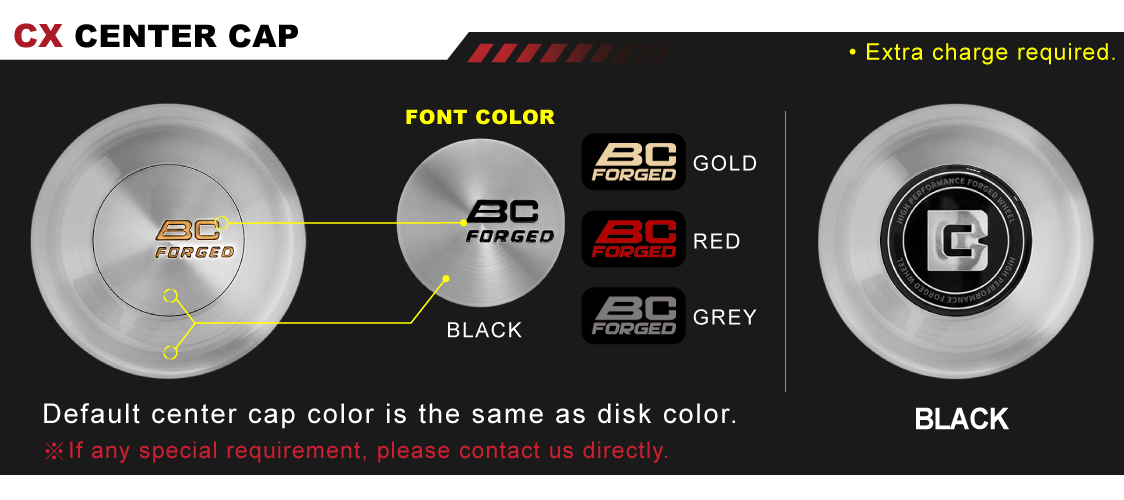 On request it is possible to have the central hole compatible with the original hubcaps of the most popular brands (BMW, VW, Audi ...) for a "OEM" style. Price for processing € 75 including VAT per wheels. Original hubcaps available on request.
Valves can be chosen from chrome or black: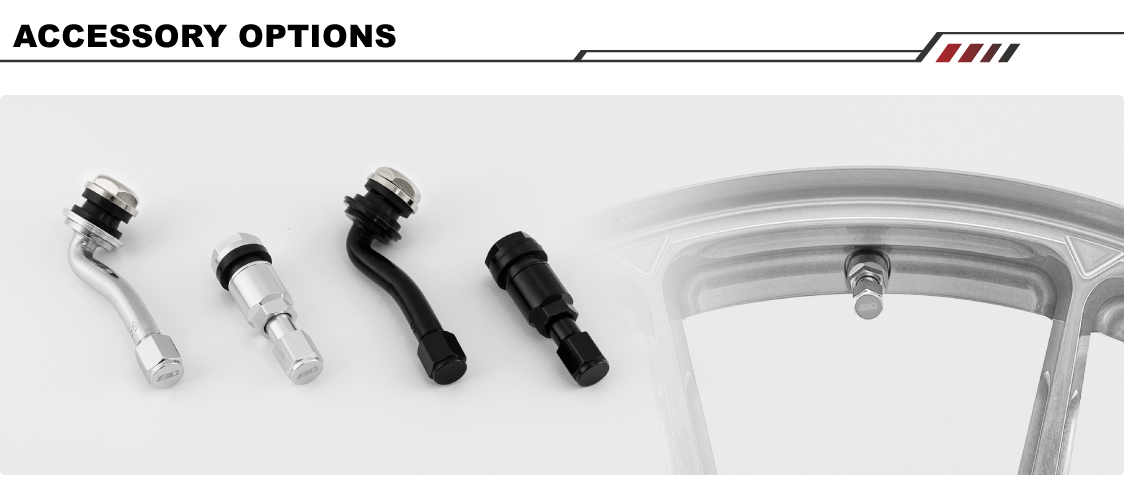 Optionally, it is possible to work the rim with the anti-slip knurling. Price for processing € 60 including VAT per wheel: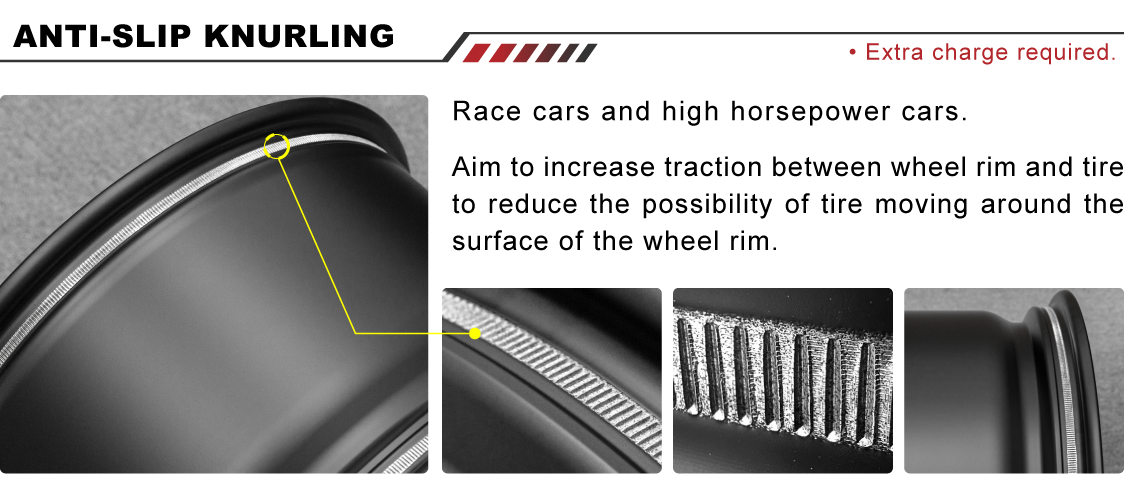 It is possible to have the set of wheels with single nut machining. The price for processing is 150 € including VAT per wheel.
BC forged supplies specific adapter kits to adapt single nut rims to 4 or 5 hole hubs. The price of the adapters is 700 € including VAT complete kit:
WEIGHT:
KZ10 18x8 ET23 7.8kg
RS31 18x8.5 ET47 8.2kg
KL01 18x8 ET22 e 18x9 ET45 7.8kg
RZ22 18x11 ET39 9.6kg
RZ22 18x13 ET49 10.1kg
Delivery times from the order are 3-4 weeks.
Before manufacturing, a CAD drawing of the section is made to check the concavity and brake dimensions.
Including hubcaps, valves and metal caps.
Compatible with original TPMS.
NB: due to the enormous quantity of combinations offered by BC Forged, the price shown is only indicative and may be subject to slight differences based on the model and combination of options chosen by the customer.
Each set of BC forged wheels is prototyped using CAD and to improve aesthetics, strength and lightness to the maximum, it is possible that some configurations chosen by the customer conflict with each other and cannot be made.
For any questions or requests for information, please contact us!